Corporate Earnings Flagging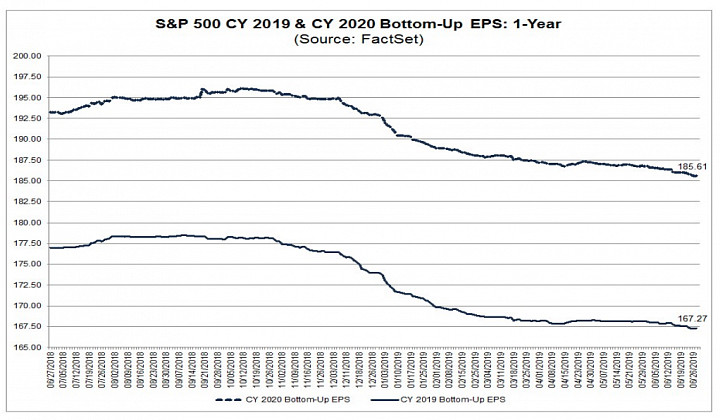 Chart courtesy of FactSet:
Earnings per share estimates for the S&P 500 index for calendar years 2019 & 2020 are falling modestly yet. While the falls are modest for now, sharper declines should be heeded.
Currently earnings growth for Q4 2019 is expected to be around 6% to 7%. If this is correct, then calendar year 2019 EPS will come in around 3% to 3.5%. Expectations are high for Q4 and there are risks to that outlook. Generally speaking, estimates out 6 months or more come down as analysts are proved too optimistic.
The Fed is poised to back equity asset values with lower forward interest rates. This is an important matter since they want to keep risk asset values high to support ongoing consumption. Corporate capital risk assets respond to lower long term rates as these lower costs of doing business flow down into the financial metrics and support EPS outcomes.
Should the Fed pivot against lowering rates in the coming months and refuse to go along with the 3 cuts priced into the rate curve, then equities would need to be priced lower. As of now, at least a 75bps reduction in the FFR is priced into equities.